From a young age, Dr. Paul Arnold knew he wanted to become a physician. Growing up as an athlete, he had to deal with many broken bones and made frequent visits to the doctor's office. "I found the physician as a healer," he explains, "and wanted that as my path and destination from [when I was] very, very young. Didn't know what kind of doctor, but my idols were my orthopedic surgeons that I would see all the time."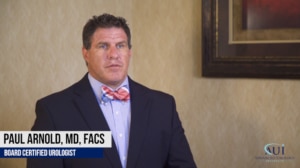 As a student at the University of Florida, Dr. Arnold became even more interested in scientific subjects, particularly in biology. He earned his undergraduate degree in zoology before moving on to the University of South Florida, where he attended medical school. During his surgical rotations, he realized that his interest was in the field of urology. He continued to research urology while in medical school and completed his residency in this field at Ohio State University. He holds certifications with the American Board of Urology and the American College of Surgery, in addition to a specialization in laser BPH surgery.
Having grown up in Miami, it made sense for Dr. Arnold to choose to practice urology in his home state. In addition to his work with AUI in Palm Harbor, Dr. Arnold has served as the assistant chief of staff at Helen Ellis Memorial Hospital since 2008; prior to that, he was the chief of surgery at Helen Ellis for two years. He is also an active member of the urological community. He participates in research for medical device and pharmaceutical companies and has published multiple papers on topics related to the diagnosis and treatment of urological issues. He specializes in the treatment of impotence and incontinence for both men and women. He also is experienced with the use of GreenLight Laser therapy and lectures internationally on the subject.
Part of the appeal of urology for Dr. Arnold is that it has a high patient success and recovery rate. As he puts it, "With urology, there is definitely a problem and a solution to it, and so you definitely have a high rate of accomplishment." Like all physicians with the Advanced Urology Institute, Dr. Arnold's goal is to diagnose and treat urological issues as quickly and effectively as possible in order to help his patients live the lives they deserve. For more information, visit the Advanced Urology Institute website.