Because urinary problems can be a sensitive and potentially embarrassing subject, many people are nervous about discussing these issues with their medical provider, even though they are very common conditions. Experts estimate that around a third of the U.S. population suffers from urinary incontinence. Luckily, these issues are treatable, according to Luis Camacho, PA, a physician assistant with the Advanced Urology Institute.
"If the patient has prostate problems, bladder problems, for the most part, the patient can be treated with oral medications," Camacho explains. "If that is not effective, then we can incorporate different procedures or surgeries in order to improve the patient's symptoms."
Urinary Incontinence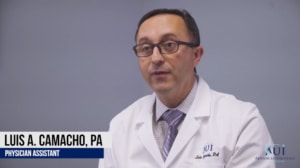 Urinary incontinence is the most common problem. There are five different types of incontinence, but one of the most common types is stress urinary incontinence, or SUI. SUI occurs when a patient's pelvic muscles are weakened, allowing urine to escape during normal everyday movements, such as sneezing, coughing or bending over. This condition is particularly common with older women, especially those who have had children. SUI can be managed with lifestyle changes or pelvic floor strengthening exercises like kegels.
Another common type of incontinence is overactive bladder, or OAB. Patients dealing with OAB feel an urge to go to the bathroom frequently throughout the day and night, even though their bladder isn't full. This urge can be difficult to ignore and can lead to a lot of stress for patients in their daily lives. OAB and SUI can occur together in a condition known as mixed incontinence.
Other Urinary Problems
Other common urinary problems that should be discussed with a doctor include urinary tract infections, also known as UTIs; hematuria, or blood in the urine; and urinary retention or frequent urination. These problems are often signs of a larger issue that should not be ignored, such as diabetes, kidney stones, or prostate or bladder cancer. It's important to bring up any issues like these with a doctor to ensure that the underlying issues can be treated promptly.
Getting Help
Although urinary problems are common, that does not mean they should be ignored, especially when they could potentially be signs of a more serious problem. Medical professionals know how wide-ranging both the symptoms and causes of urinary problems can be. "It's important to listen to the patient and then establish a course of assessments, so we can help the patient effectively," Camacho says. He and the other experts at the Advanced Urology Institute understand the sensitive nature of urinary problems and are well-prepared to help patients deal with these issues and get back to living their lives with confidence. For more information, visit the Advanced Urology Institute website.