When seeking medical care, it is vital to be able to communicate with your doctor to explain your symptoms and concerns and to understand your diagnosis. When dealing with a potentially sensitive issue such as erectile dysfunction or urinary problems, being able to communicate clearly can also go far in helping you feel more comfortable discussing the symptoms with your doctor, which is why the Advanced Urology Institute at Fort Myers offers Spanish speaking services to its patients.
Our Spanish Speaking Physicians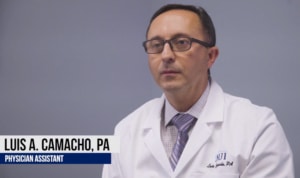 One of our goals at AUI Fort Myers is to better reach and serve the Hispanic population in the area. Physician Assistant Luis Camacho is a native Spanish speaker. He and Dr. David Harris are able to assist Spanish-speaking patients in their native language. Camacho believes this helps patients feel more comfortable when they visit their doctor.
"Sometimes, there are communication issues, and when we speak our main language, we can communicate better," he says. When a patient is able to clearly express their concerns and describe their symptoms with their doctor, the diagnostic process can go more smoothly. Once a diagnosis has been reached, the doctor can then explain the patient's prognosis and treatment options, helping to alleviate fears that the patient might have and ensure that they fully understand their part in treating the condition.
Services Offered at AUI Fort Myers
At AUI Fort Myers, our team of highly qualified medical professionals specializes in dealing with urological issues. They are ready to assist patients dealing with common problems such as erectile dysfunction or urinary incontinence as well as more serious issues such as bladder, prostate and kidney cancer. Patients who are nervous about discussing these issues with their doctor can be reassured that the team at AUI will work hard to help them find relief from their symptoms and get back to living the life they want as quickly as possible. Our team strongly believes that open communication and education about your health concerns is an essential part of the treatment process. This is why having Spanish-language services at our clinic is a key part of our strategy to best serve the people of Fort Myers.
Whatever urological problems you are facing, the team at the Advanced Urology Institute in Fort Myers is here to help you. For more information, visit the Advanced Urology Institute website.