Testosterone is a male sex hormone that plays an important role in a man's life. It is important to normal sex drive, energy and even mood. However, testosterone levels normally tend to decrease in men as they age. Although these decreases are generally normal and may even go unnoticed, they can also be severe and cause symptoms that are problematic.
Symptomatic low testosterone is a real problem that men can face when low levels of the hormone result in negative side effects. One of the most prominent symptoms is low energy and tiredness to the point of fatigue. A patient with low testosterone can also experience decreased libido or sex drive, or even erectile dysfunction. Personality can also be affected by low testosterone for those who experience moodiness, anxiety, and differing levels of stability.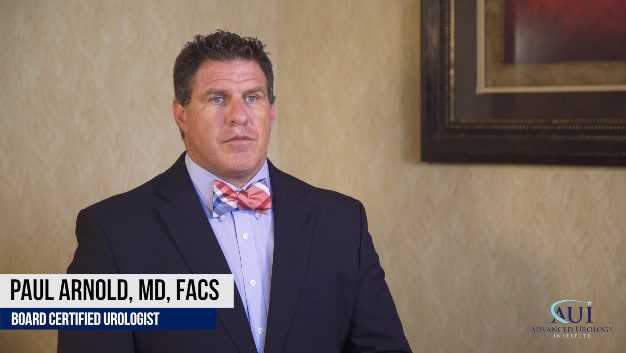 There are many causes of low testosterone, with simply aging being the most common reason. Men can also experience low testosterone after an injury to the testicles, chemotherapy, certain types of infections, or autoimmune diseases. In addition, there are also medications that can lower testosterone levels.
Many men with low testosterone experience no symptoms at all and, for these men, a urologist would not recommend treatment. For men who do experience the negative symptoms, one option is testosterone replacement therapy.
With testosterone replacement therapy, the hormone is brought into the body through gels, patches, or injections. The supplemental hormone brings testosterone back to normal levels and, in most cases, the patient will notice the change quickly. Energy levels, mood, and libido see quick improvements. And when testosterone replacement therapy is closely monitored by a urologist, the risks are minimal.
According to Dr. Paul Arnold, for patients receiving testosterone replacement therapy, "It's like a light switch from their symptoms prior to treatment to post treatment." Symptomatic low testosterone can be a difficult and depressing condition for those who miss the active life they once had. Fortunately, the urologists at the Advance Urology Institute can help you feel better and live with energy and a positive outlook again. For more information about testosterone replacement therapy, visit the Advanced Urology Institute website.