Erectile dysfunction, also commonly referred to as ED, is the inability for a man to maintain an erection for sexual activity. Although it can be an embarrassing subject to talk about, it is very common. Fifty percent of men over the age of 50 experience some degree of ED. It is important to know that there are plenty of treatment options available. As Luis Camacho, PA explains, "We have several patients with erectile dysfunction, and we can be very helpful with treatment and procedures."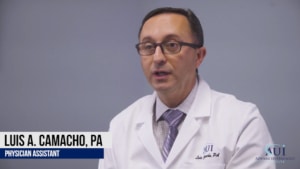 A man experiencing the symptoms of erectile dysfunction can make an appointment to discuss the issue with his urologist. A conversation about the patient's medical history and symptoms can usually lead to an in-office diagnosis. Once diagnosed, and it is determined that the patient is healthy enough for sexual activity, the urologist and patient can discuss treatment options. Many patients find themselves surprised by the number of treatment options available to them.
The most common and familiar treatment for ED is medication. Pills are easy to take and highly effective in many cases. For this reason, most urologists start treating ED by prescribing one of the many pill options available. Another simple option is the vacuum erection device. For this treatment, a man inserts his penis into the cylindrical pump that works like a vacuum to draw blood to the penis resulting in an erection. A band then goes around the base of penis in order to maintain the erection. Yet another option is injection therapy. A patient using this therapy will give himself a small, nearly painless injection into the base of the penis. The injection stimulates an erection for a certain amount of time.
Some cases call for more invasive treatments. With a penile prothesis, an implant is surgically inserted into the penis. A pump in the scrotum that is attached to the prosthesis is used to create the erection.
When facing erectile dysfunction, it is important to know that you are not the only person dealing with this issue, and there are plenty of treatment options available that help men lead normal and satisfying sexual lives. All it takes is a conversation with a urologist at the Advanced Urology Institute to find the best ED treatment for you.