Prostate cancer is one of the most common forms of cancer found in men. The likelihood of it forming in the walnut-shaped prostate organ increases with age. Luckily, there have been many major advances in how prostate cancer is diagnosed and treated. When it comes to diagnosing, board-certified urologist Dr. Jonathan Jay says, "First we must define where it is, how much of it exists within your prostate, and then what its behavior is like."
Answering the where, how, and what is key to determining the type of prostate cancer and how to watch or treat it. Urologists are using advanced technologies to answer these questions. Urologists want to know how aggressive a cancer is when determining how aggressively they need to treat it. They can use a molecular biopsy and a high-quality T3 MRI to pick up on aggressive cancers. If an aggressive cancer is found, urologists can perform a more focused biopsy.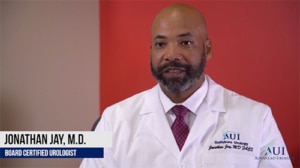 This focused biopsy is called a GPS Guided Biopsy and it has some very important advantages over a regular biopsy. The cancer may exist in a very small portion of the prostate, especially early on. This small cancer can be missed during a biopsy just by a sampling error, leading to a diagnosis that may not give a completely accurate picture of the cancer. But with a high-quality MRI, a guided biopsy can pinpoint the growth and the urologist can detect and determine the type of cancer with greater accuracy.
When the cancer is detected with greater accuracy, the urologist can now follow it more closely and understand what type the doctor and patient are dealing with. The urologist can perform a biopsy on the cancer to look at and understand its genetics. If the genetics show that it is not very aggressive or growing, then the urologist may decide to watch the cancer, as treatment may not be necessary. MRI's and patient follow up can be used to watch the growth to see if there are any changes that may require more aggressive treatment.
Along with MRI's, the cancer can be monitored with rectal exams and prostate-specific androgens (PSA) tests. These tools offer insight into the patient's specific prostate cancer and its progression. If it becomes aggressive, the urologist can recommend surgery or radiation therapy.
A diagnosis is the beginning of a patient's cancer treatment. At the Advance Urology Institute, urologists like Dr. Jonathan Jay utilize recent advancements in prostate cancer biopsies to provide their patients with the most accurate diagnosis and best treatment options.