The urinary system of the human body regulates, manages and eliminates urine waste. The organs in this system are the kidneys, ureters, bladder and urethra. But as with any organ or system of the body, the urinary system can have problems, commonly referred to as urologic diseases or urologic problems.
You can have urologic problems regardless of your age, ethnicity or gender. And when urologic conditions occur, in both men and women they have a direct effect on the urinary tract and how urine is expelled from the body. In men, urologic problems can also affect the reproductive organs.
Signs that you have urinary tract problems:
Blood in urine
Pain or burning sensation while urinating
Pain in the lower back, stomach or groin (kidney stones)
Difficulty urinating
Fever
Chills
Pain in genitals
Urologic conditions are treatable
Urology is a dynamic and advanced field. Urologists know how to treat many urologic diseases, including cancer of the prostate. The first step in any successful treatment is to see a urologist on time. Do not delay. As soon as you experience any problems, visit a urologist for a medical exam.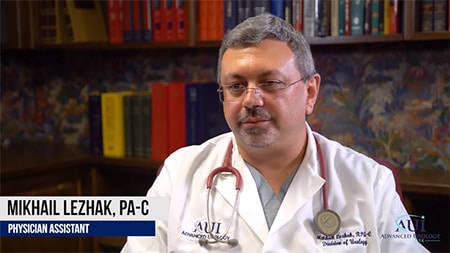 Common urologic conditions
(1) Urinary Tract Infections (UTIs)
Urinary tract infections (UTIs) are the most frequent type of urologic condition, although they occur more commonly in women than men. Close to 60% of women and 12% of men experience UTIs at some point in their lives. These infections are easily treated with antibiotics, but the treatment should begin as soon as possible to avoid further infection and prevent complications.
(2) Urinary incontinence
Although many people resist seeking help because of embarrassment, urinary incontinence is treatable in most cases. The cause is usually either an overactive bladder (urge incontinence) or stress incontinence. Typically, urge symptoms come from the bladder wall and detrusor muscle and mucosa, while stress symptoms are due to the incompetence of the bladder neck or urethral sphincter.
The diagnosis of urinary incontinence can be reached through a careful patient history, thorough examination and proper tests. You may need bladder retraining, controlled fluid intake, reduction in caffeine intake, or deliberate delayed voiding to treat the symptoms. Your doctor can also recommend medication or perform corrective surgery.
(3) Pelvic Floor Dysfunction
Pelvic floor muscles support the bladder, vagina and rectum. At some point in life, particularly after childbirth, pelvic floor muscles can become irritated or inflamed. Since the pelvic floor has to relax during urination, having pelvic floor dysfunction can cause pain or difficulties. The problem is often treated through pelvic floor exercise, but when the exercises are ineffective, vaginal medications or muscle injections can be used.
(4) Prostatitis
Many urological problems in men are linked to the prostate. Prostatitis is the inflammation or abnormal swelling of the prostate. The most common symptoms of prostatitis are painful urination, fever, chills, abdominal pain, and pain in the lower back or pelvic region. If you are diagnosed with prostatitis, your doctor will recommend antibiotics to reduce the swelling and restore your prostate to normal size.
(5) Bladder and prostate cancer
The PSA test and prostate exam are great ways to check on your prostate health. Should cancer be found in your bladder or prostate, your urologist will offer lifesaving care. Prostate cancer is the second leading cause of cancer-related deaths in men. It results from the abnormal and rapid growth of prostate cells.
Prostate cancer is successfully treated when detected early, which is why men are encouraged to get checked once a year. In fact, the recommended treatment depends on the time of detection, and may include radiation, surgery or regular surveillance. Today, robotic surgery has helped to reduce the hospital stay for kidney, bladder or prostate cancer surgery to just a few days, or just one day.
(6) Prostate enlargement (BPH)
The prostate grows as you age. Over time, you may have to wake up at night to go to the bathroom or you may not be able to produce the stream of urine you once did. When diagnosed with BPH, your urologist will use various techniques to relieve the obstruction caused by the enlarged prostate. These techniques include consistent monitoring, medications, and in some cases surgery.
Your urologist may also recommend the Rezum procedure—which uses heated water vapor to shrink the enlarged prostate tissue—or the green light and thulium laser vaporization techniques, transurethral resection of the prostate, minimally-invasive thermotherapy, or a UroLift. You will likely return home the same day as one of these procedures.
(7) Erectile dysfunction (ED)
This is a common condition as men grow older. When a man in his 40s or 50s notices that his erections are no longer what they used to be, he should talk to a urologist. Erectile dysfunction is the difficulty in achieving or maintaining an erection for sexual intercourse.
Although not fatal, it can cause stress, embarrassment and a strain on your relationship. Urologists will help you determine the underlying conditions and recommend treatments. Your urologist may prescribe medications—such as PDE5 inhibitors Cialis and Tadalafil—penile injections, a penile pump or, as a last resort, penile implant surgery.
(8) Kidney and ureteral stones
Kidney and ureteral stones occur when crystal-like particles in urine develop and grow into larger masses. As the stones pass along the urinary tract, they can get blocked and cause pain. Although most stones are passed naturally, larger stones may require surgery or specific procedures to break them.
One of the most common treatments is the Extracorporeal Shock Wave Lithotripsy (ESWL) technique in which sound waves are used to break up stones into smaller pieces. Also, since kidney stones can recur, patients often need long-term care. Your urologist will advise you on how to prevent kidney stone formation and how to best manage any potentially painful stones that develop.
At Advanced Urology Institute, every day we help people solve problems they may be hesitant to talk about. Since these problems are distressing or awkward to discuss, our goal is to help make you comfortable. We are proud of the long-term relationships we enjoy with our patients. Our knowledgeable urological specialists provide carefully tailored and confidential care. At AUI, patients get a proper diagnosis and the correct treatment, and we are willing to answer any questions you may have about your health.
If you suspect you have a urological problem, we encourage you to make an appointment at one of our many locations. For additional educational resources on urologic conditions, visit the Advanced Urology Institute website.