Erectile Dysfunction
, also called ED, is the inability for a man to get or maintain an erection firm enough for sexual activity. It is a very personal and sensitive issue that can be difficult to talk about. Although ED is a common issue that affects many men, it can still cause
feelings of embarrassment
and shame. This makes open conversations, even with
a trusted urologist
, difficult in some cases.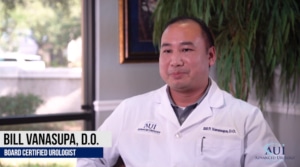 A urologist is a doctor who specializes in the urinary tract and male reproductive system. They are the doctor a patient will most likely to go to about his ED. Urologists see countless cases of ED on a regular basis, and to them it is not a major issue at all. However, good urologists understand that ED can be an embarrassing issue for their patients and they immediately begin their visits by creating a comfortable environment where doctor and patient feel at ease discussing it.
One such urologist who works to create a comfortable environment is Dr. Billy Vanasupa. When talking about his approach with patients who see him for ED, Dr. Vanasupa says, "I always try to make my visits light, make some jokes here and there, and make them feel comfortable." His goal is to make his patients laugh so they are less nervous and feel they can easily talk to him. Dr. Vanasupa removes the stigma of ED so he and his patient can openly discuss this sensitive topic.
Once everyone is comfortable discussing the topic, the urologist will ask background questions like whether the ED occurred slowly or abruptly. The patient will be asked if he has tried any medications. The doctor's questions are to help determine root causes for the issue and will include asking about diet, alcohol and drug use, and stress factors. Finding possible causes for ED is an important first step in treating it.
The urologist and patient will discuss best treatment options for ED. In many cases, oral medication, possibly along with some minor lifestyle adjustments, will fix the issue and allow healthy men to return to their normal sexual activity. For some men, oral medication does not help. The urologist may suggest injections. Patients will learn in the office how to administer a very low-pain injection at the base of the penis. There are very few cases where neither the oral or injected medication solves the issue.
Outcomes are best when the patient feels comfortable talking to his urologist about sensitive issues. The Advanced Urology Institute has urologists who can treat erectile dysfunction in a way that puts a patient at ease. For more information, visit the Advanced Urology Institute website.