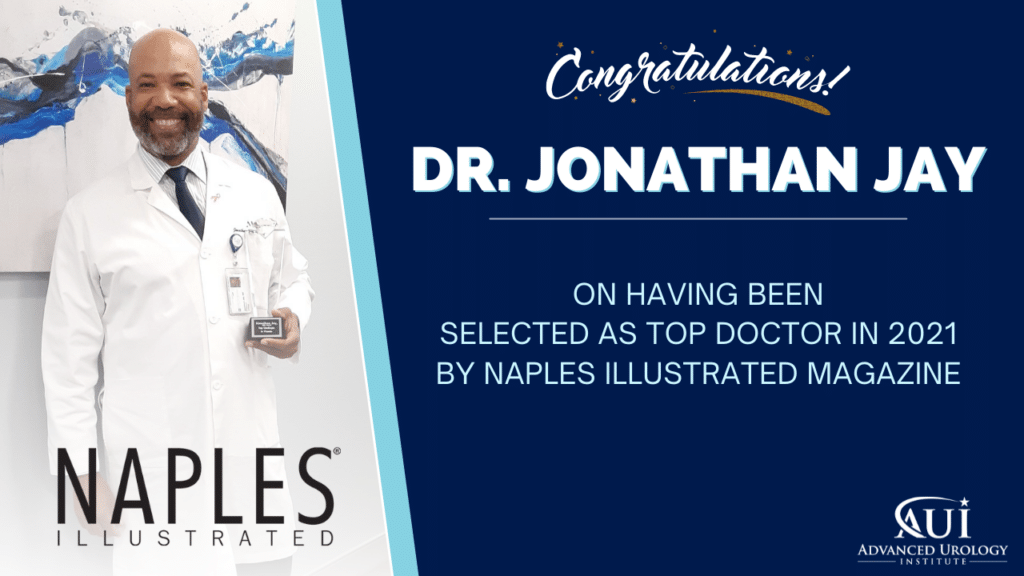 Congratulations to Dr. Jonathan Jay for being selected as Top Doctor in 2021 for Naples Illustrated Magazine
About Dr. Jonathan Jay
Dr. Jay received his Bachelor of Science degree in Physiology from Michigan State University, graduating with Honors. He went on to complete his medical education at the University of Michigan, Ann Arbor. He completed his residency training at Henry Ford Hospital before entering and completing his fellowship training at Beth Israel Deaconess Medical Center, Harvard Medical School in Boston. He received numerous honors and awards throughout his training, including Outstanding Resident Training Award and Lansing School District Distinguished Alumni Award.
He has made national presentations on various urological topics and has published multiple scientific papers in peer-reviewed journals as well as book chapters. He is involved in clinical research, including clinical trials for the minimally invasive correction of bladder control problems.
About Advanced Urology Institute
As one of the largest full-service urology groups Florida, our 37 locations offer comprehensive urology services, from evaluation and pre-surgical preparation, to surgery and rehabilitation. We have evaluated numerous patients and performed thousands of urologic surgical and cancer procedures in the last decade with excellent outcomes. We are dedicated to combining clinical excellence, advanced technology, and patient- and family-centered care.
For more information contact AUI at: 855-977-4888