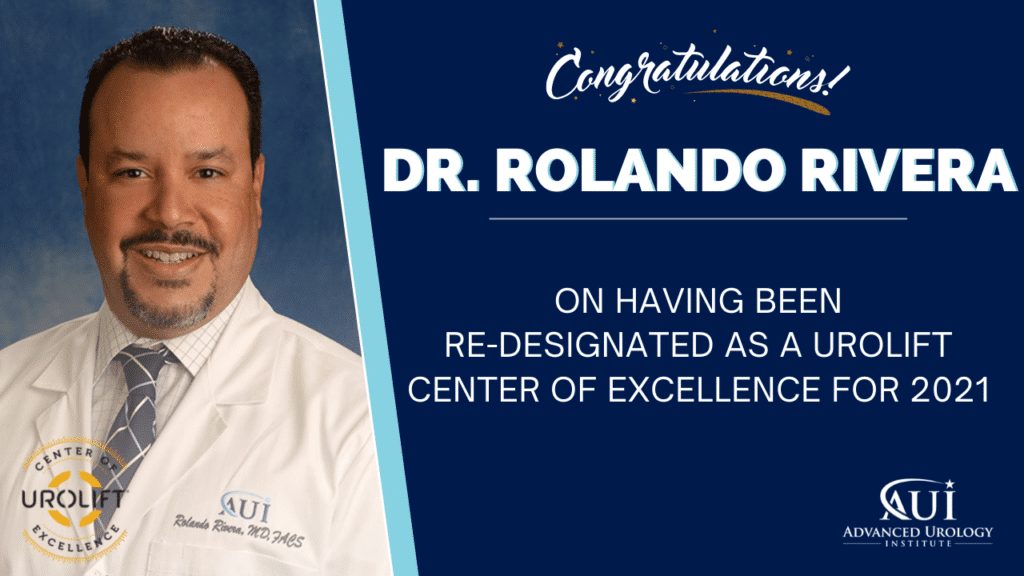 Dr. Rolando Rivera of Advanced Urology Institute Re-designated as a UroLift Center of Excellence
About Dr. Rolando Rivera
Rolando Rivera, MD, FACS is an established Urologist in Naples, Florida, who features over two decades of experience in his field. Dr. Rivera's acclaimed career in medicine began in 1996, when he graduated from the University of Puerto Rico School of Medicine in San Juan. Upon earning his Medical Degree, he completed an internship at Brooke Army Medical Center in San Antonio, Texas, before undertaking his residency at the University of Florida Shands Medical Center in Gainesville. Pursuing advanced medical training, Dr. Rivera then completed a fellowship in Female Urology, Pelvic Surgery and Urodynamics at the University of Miami.
About Advanced Urology Institute
As one of the largest full-service urology groups Florida, our 37 locations offer comprehensive urology services, from evaluation and pre-surgical preparation, to surgery and rehabilitation. We have evaluated numerous patients and performed thousands of urologic surgical and cancer procedures in the last decade with excellent outcomes. We are dedicated to combining clinical excellence, advanced technology, and patient- and family-centered care.
For more information contact AUI at: 855-977-4888