Erectile dysfunction (male impotence) is a man's inability to achieve or maintain an erection with enough firmness to have satisfying sex. Occasional erectile dysfunction (ED) is common and many men experience it when undergoing some form of stress. But frequent ED can be a sign of serious health, emotional or relationship problems that require the attention of a professional.
How common is erectile dysfunction?
Roughly 30 million men in the United States have problems achieving or maintaining an erection. The frequency of ED increases with age, affecting only 5-40% of men in their 40's and up to 50-80% of men over 70 years. However, while the risk of ED increases with age, the condition is not an inevitable consequence of aging. Good health is the key to a lifetime of good sexual function.
Who is at risk of erectile dysfunction?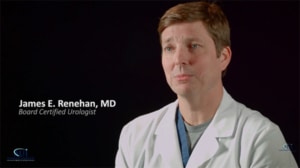 Apart from occurring frequently among the elderly, ED is often a consequence of poor emotional and physical health. It is common in men with high cholesterol, diabetes, obesity, cardiovascular disease, hypertension, prostate disease, anxiety, damage from surgery or cancer, injuries, stress, depression, performance anxiety, relationship problems, alcohol use, smoking, and drug use. Typically, ED is caused by vascular disease (such as atherosclerosis) that prevents blood supply to the penis, a neurological disorder (like multiple sclerosis) that cuts transmission of nerve impulses to the penis, chronic medical disorders such as Peyronie's disease, stroke and diabetes, trauma, and operations for bladder, colon and prostate cancer which may affect blood supply to the penis. These risk factors may work singly or in combination.
How is erectile dysfunction treated?
When you visit a urologist, the first step in the diagnosis of the problem is a thorough sexual, medical and psychosocial history. Physical examination with emphasis on the genitourinary, neurologic and vascular systems is performed. From the information gathered, the urologist may request hormone tests (testosterone, luteinizing hormone, and thyroid – stimulating hormone, prolactin and serum hormone-binding globulin), urinalysis, PSA (prostate-specific antigen), lipid profile, and serum chemistry. Functional tests such as prostaglandin E1 injection, formal neurologic testing, nocturnal penile tumescence testing and biothesiometry may be requested, together with imaging studies such as transrectal, testes and penile ultrasonography and angiography.
If erectile dysfunction is diagnosed, the doctor may recommend treatment depending on the cause and severity of the condition. For instance, the urologist may recommend sexual counseling when no organic causes can be established for the problem. Oral medications such as sildenafil, vardenafil, tadalafil or avanafil may be offered to relieve the problem. But for those not responding to oral medicines, the urologist may inject, implant or direct the topical application of drugs such as alprostadil, phentolamine or papaverine. In some cases, an external vacuum or constriction device may be recommended while for other patients hormone replacement therapy may be used to treat severe hypogonadism (lower-than-normal testosterone). Alternatively, the urologist may opt for surgery through procedures such as revascularization, placement of penile implant or surgical correction of venous outflow.
How is erectile dysfunction prevented?
Eat a healthy, balanced diet that avoids saturated fats and increases the intake of vegetables, fruits and whole grains.
Reduce cholesterol levels through exercise, medication and diet.
Maintain a healthy body weight.
Exercise regularly.
Seek prompt treatment or professional help for conditions such as stress, depression, hypertension, heart disease and diabetes.
At Advanced Urology Institute, we recognize that effective treatment of erectile dysfunction involves a proper determination of the underlying cause and a frank discussion of both medical and non-medical options. This is why we have assembled an accomplished team of physicians, state-of-the-art facilities and a patient-centered system that responds to the unique needs of each patient. If you are experiencing a urological problem, make an appointment today. For more information, visit the Advanced Urology Institute website.