Erectile dysfunction, also known as ED, is the inability of a man to get or maintain an erection firm enough for intercourse. ED is a very common issue that can negatively affect a man's self-confidence and his relationship with his partner. Many men see urologists for help with ED when this happens.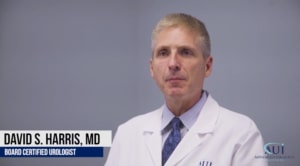 The primary symptom of ED is trouble getting and maintaining an erection, and reduced sexual desire is often associated with it. There are many factors that can cause ED, and they can be divided into two categories: mental and physical. Depression, anxiety and stress are mental factors that can cause ED. There are also physical factors, including heart disease, diabetes, high blood pressure and substance abuse. There are plenty of cases when it is a combination of mental and physical factors that cause ED.
All men are at risk for erectile dysfunction; however, there are some factors that increase the likelihood of developing it. Heart disease and diabetes are key risk factors that increase the likelihood of ED. Tobacco use causes damage to arteries, restricting blood flow and raising the chances of ED. Drug and alcohol use are risk factors as well. Men who are overweight, and especially those who are obese, are also at greater risk of developing erectile dysfunction.
A urologist can diagnose ED by performing a physical exam and asking a few questions. Once diagnosed, urologists can consider a variety of options for treatment, depending on the patient. The first option is usually oral medication. Urologists will try different medications to help patients maintain erections. If none are effective, then the urologist may prescribe injections. Small injections can be made to the shaft of the penis that dilate the blood vessels in the penis, allowing better blood flow and erections. The patient can administer these injections himself as needed.
Erectile dysfunction is not uncommon and as Dr. David Harris says about treating it, "As urologists, we are the leading authority." Urologists see cases of ED on a daily basis and are accustomed to having conversations about it and finding the best way to solve the issue with their patients. In most cases a patient who is motivated to work with his urologist on finding the best treatment will eventually find a solution that works. The Advanced Urology Institute helps many patients explore their options and treat their ED so they can continue their normal lives and activities. For more information, visit the Advanced Urology Institute website.