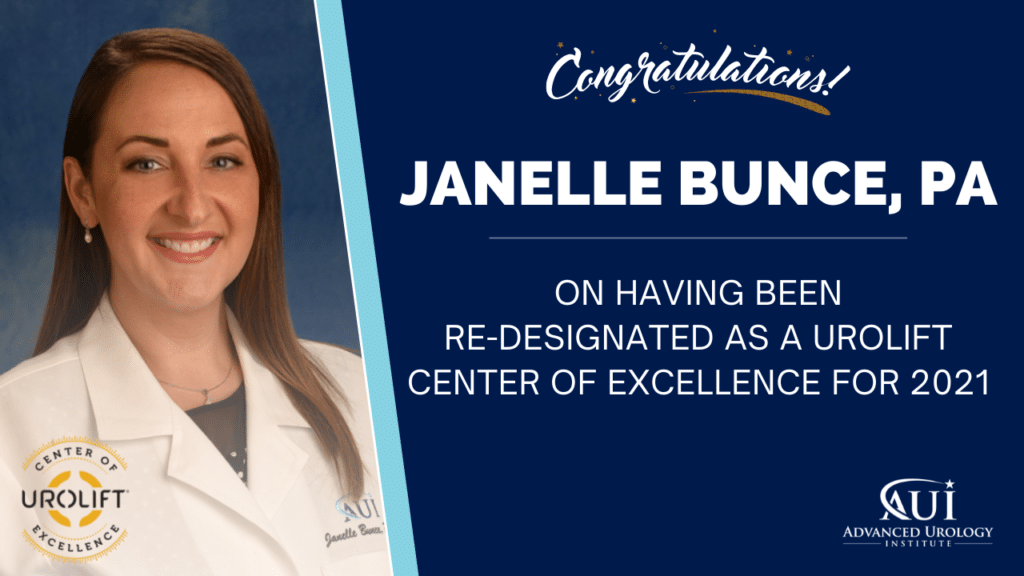 Congratulations to Janelle Bunce, PA-C on having been re-designated as a UroLift Center of Excellence in May 2021.
About Janelle Bunce, PA-C
Janelle Bunce PA-C is a nationally certified Physician Assistant who earned her Masters of Medical Science and Physician Assistant studies degrees at Nova Southeastern a University in Davie, FL in 2004. She is a member of the American Academy of Physician Assistants, Florida Urological Society and the American Urological Association. She has participated in multiple medical mission trips. Her specialties include adult and pediatric urology. She is currently a practicing physician assistant in Naples, FL.
About Advanced Urology Institute
As one of the largest full-service urology groups Florida, our 37 locations offer comprehensive urology services, from evaluation and pre-surgical preparation, to surgery and rehabilitation. We have evaluated numerous patients and performed thousands of urologic surgical and cancer procedures in the last decade with excellent outcomes. We are dedicated to combining clinical excellence, advanced technology, and patient- and family-centered care.
For more information contact AUI at: 855-977-4888