My name is Brian Hale, I'm a board certified urologist working with Advanced Urology Institute.
Certainly any man over the age of 50 should be screened for prostate cancer, it is the #2 cause of cancer death in men. There's a lot of controversy about the PSA because of its lack of specificity: a lot of men who have elevated PSA do not have prostate cancer, but unfortunately we don't have a better task. We have a rectal exam but that misses more cancer than the PSA, so to stop screening for prostate cancer was a mistake and they actually only reversed that recommendation on screening for prostate cancer based on what was happening. We were seeing a lot of men with Metastatic disease.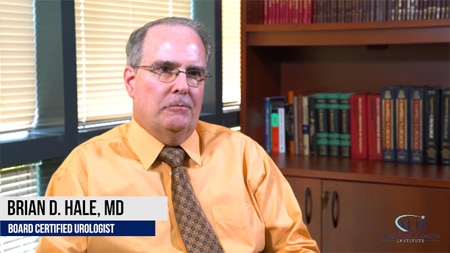 I started private practice in 1995, and from 1995 until the last five (5) years or so, I didn't have any metastatic prostate cancer patients in my practice, and now I have a lot, and a lot of it was from a lack of screening. I have patients that were trying to do everything right: watching their weight, exercising and they stopped screening for prostate cancer because of the recommendations. They would have symptoms like blockage from their prostate or blood in their urine. We would check a PSA and we would find it to be extremely high and later find they have metastatic disease because of lack of screening. I have several patients I know on the top of my head that have had that problem, unfortunately. So I would definitely recommend that they continue screening for prostate cancer. [While] it is true, we need a better test than PSA, but just because we don't have a better test doesn't mean we should stop screening and I think the government is coming back around to that because the treatment of metastatic prostate cancer is a lot more expensive than the treatment of early prostate cancer.