A urologist plays an important role in healthcare. The field of urology encompasses many issues that people face throughout their lives, especially as they start to age. As urologist Dr. Amar Raval notes, urology allows him the opportunity to "provide a service to others." As a urologist he gets to make a positive impact on his patients' lives by helping them with many of the common issues that prompt people to seek medical help.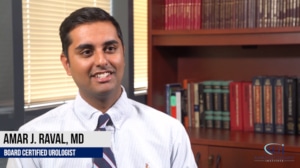 One common problem is kidney stone disease. Kidney stones form for a variety of different reasons. They are particularly common in warm climates, like Florida. Symptoms can vary, but they include severe abdominal pain, nausea, fever, chills, difficulty urinating or blood in the urine. Kidney stones can be very painful and some people need assistance to pass them. A urologist can assess the stones and determine the best way to remove them. In some cases, experienced urologists can break up the stones using a shock wave treatment that is totally noninvasive.
Urologists also frequently see cases of prostate cancer, one of the most common cancers for men. The disease comes in many different forms, making each case unique. While some need to be treated with surgery, chemotherapy or radiation, other forms are non-aggressive and can be left alone. Urologists also may recommend cutting-edge technologies like HIFU. Whatever the diagnosis, it is important to work with your urologist to monitor your prostate and find the best treatment plan for you.
Urinary incontinence is a common problem that many patients are embarrassed to discuss with their doctor. A urologist deals with many patients experiencing urinary incontinence and is accustomed to having in-depth conversations with their patients about incontinence. They know how to discuss the problem with patients so they feel comfortable while also finding the underlying issue causing the incontinence. Whether it is caused by stress, infection, lifestyle or another issue, a urologist can find the best solution and help a patient maintain a healthy and confident life.
There are countless other issues that bring patients to see a urologist for help. Dr. Amar Raval at the Advanced Urology Institute is one of many dedicated urologists improve their patients' quality of life. For more information, visit the Advanced Urology Institute website.