Well, yes—every day. At Advanced Urology Institute, we treat men with erectile dysfunction (ED) and achieve great results for our patients. Erectile dysfunction is a big issue for men today, regardless of their age. Up to half of all men experience some form of ED in their lifetime, with roughly 10% of men over 40 suffering severe forms of impotence.
What is erectile dysfunction?
Also called impotence, erectile dysfunction is the inability to regularly get or maintain an erection for satisfying sex. In general, an occasional problem should not be a cause for concern. In fact, it is normal to have trouble getting or keeping an erection for up to 20% of sexual encounters. But frequent trouble getting an erection indicates a medical problem. With ED, successful erections either become the exception more than the rule or they never happen.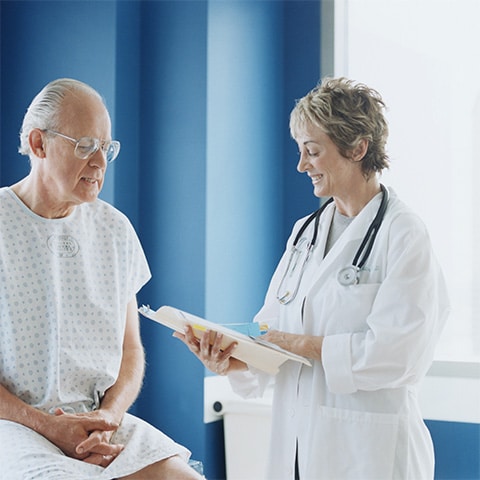 Some of the causes of ED include:
Alcohol use, illicit drug use, or smoking
Medications, such as for high blood pressure
Diabetes
High cholesterol
Heart disease
Obesity
Blocked blood vessels
Scar tissue inside the penis
Sleep disorders
Metabolic syndrome
Anxiety, stress, or depression
Emotional or relationship issues
Risk factors for erectile dysfunction include advanced age, diabetes, obesity, depression, cardiovascular disease, high blood pressure, low testosterone, high cholesterol and smoking.
What does treatment for ED involve?
Erectile dysfunction is a treatable condition. At Advanced Urology Institute, we offer several treatment options, generally beginning with the least invasive approach. We also give lifestyle advice that may help with overcoming the condition.
For instance, if your ED is due to inactivity, obesity, metabolic syndrome, high blood pressure or cardiovascular disease, we may recommend you engage in regular aerobic exercise to help reduce the symptoms. We may also recommend you quit smoking, minimize your alcohol intake and follow a healthy diet.
Treatments for ED include:
1. Phosphodiesterase type-5 (PDE5) inhibitors
PDE-5 medications are typically the first line of treatment we recommend for men with ED. They include Stendra (avanafil), Viagra (sildenafil), Cialis (tadalafil), and Levitra or Staxyn (vardenafil).
These oral medications work in a similar manner to boost the level of cGMP—a natural chemical in the body that promotes the widening of blood vessels following sexual arousal. In turn, more blood reaches the penis.
At the same time, these medicines enhance the relaxation of muscles of the penis in response to stimulation, hence increasing blood flow to the penis and allowing an erection.
2. Creams and injections
Sometimes we prescribe a topical Alprostadil cream as an alternative to the oral medications. The cream comes with a plunger and is applied to the tip of the penis and the surrounding skin 5-30 minutes before having sex.
At other times, we may prescribe penile injections as a treatment for ED. That is, we teach you how to inject a medicine at the base of your penis 5-20 minutes before sexual intercourse. After the injection, there will be increased blood flow to your penis and an erection will develop within 15 minutes.
3. Penis pumps (vacuum devices)
A penis pump (vacuum erection pump) is a tube that fits over the penis. A plastic container is placed over the penis and the pump draws air from the container to create a vacuum. The change in air pressure when the device is used causes blood to be drawn into the penis and triggers an erection.
Once the vacuum creates an erection, the retaining band is slid down the lower end of the penis and the pump is removed. An erection will typically last long enough for intercourse but the penis may be cold to the touch, and the rubber band may restrict ejaculation.
4. Penile implant (surgery)
We generally recommend surgery only when all other treatment options are not successful or not well tolerated. If that is the case, a penile implant (prosthesis) may help in achieving erections.
A penile implant is a medical device surgically placed into a penis to mimic the look and performance of a natural erection. The prosthesis involves an inflatable rod inserted in the middle of the penis, with a pump hidden in the scrotum. The pump is used to inflate the rod, which in turn causes an erection.
Penis pumps are custom-fit to your anatomy in a procedure that is performed carefully to ensure that the sensitivity of the penis and your ability to ejaculate are not adversely affected, allowing you to have a normal orgasm and great sexual encounters.
At Advanced Urology Institute, we recognize that erectile dysfunction is a common but very sensitive issue. That is why we provide a compassionate, patient-friendly approach to ED treatment to help men tackle it as soon as it starts. And because ED may also be a sign of a more serious medical condition, we encourage you to speak with a urologist as soon as possible to help you address the underlying condition and find the best treatment option.
Remember, the sooner you speak with your doctor about ED, the sooner you can go back to enjoying physical intimacy with your significant other. For more information about the diagnosis and treatment of erectile dysfunction, visit the Advanced Urology Institute website.