A successful medical team has several positions. One of these positions is the physician assistant. Also referred to as a PA, a physician assistant is a trained medical professional whose education takes less time to complete than a doctor's.
Chelsie Ferrell, PA
remembers the first time she shadowed another physician assistant and decided it was the career for her. According to Chelsie, "I met a really great PA and loved her job, and I fell in love with the profession." After becoming a PA, her career path led her to urology.
Urology is a specialized medical field that focuses primarily on the male and female urinary systems and the male reproductive system. Because of how many different organs are involved in the urinary system, urology covers a wide range of medical issues for both men and women.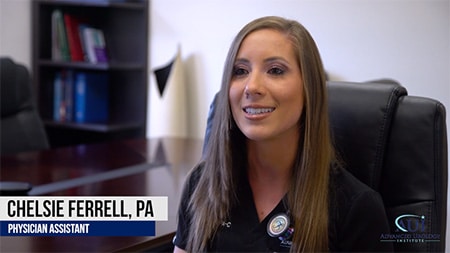 One reason men see a urologist is to check for prostate cancer. Prostate cancer is the most common form of cancer that affects men. As they age and their likelihood of developing the disease increases, regular prostate cancer screenings by a urologist become increasingly important. If cancer is found, the urologist will discuss treatment options with the patient. Some non-aggressive cases can be treated simply by monitoring the cancer. Others cases may need to be treated with surgery or radiation therapy.
For women, urinary tract infections (UTIs) are a common reason to see a urologist. UTIs are infections that flare up in any part of the urinary system, including the kidneys, bladder or urethra. Symptoms can vary between patients, with the most common symptoms being intense pain, frequent need for urination, nausea and vomiting. Although easily treated with antibiotics, UTIs are known to be a recurring problem for some women.
Physician Assistants are important urology team members who help doctors and patients as they work together to achieve the best possible outcome in medical care. They have the satisfaction of knowing that the work they do can make a positive change in a patient's life. Their work can even be life-saving when it results in the early detection of prostate cancer. The Advance Urology Institute relies on committed staff members like Chelsie Ferrell, PA to provide quality patient care.