Prostate cancer is a health challenge that many men will face in their lifetime. What makes prostate cancer unique is the many forms it can take, with each form requiring a different treatment method and affecting men differently. According to board certified urologist
Dr. Brian Hale
, "Prostate cancer is extremely common and most men with prostate cancer will probably never have a problem from it."
Prostate cancer
is so common that up to 80% of men who live to age 80 will have some form of it. Fortunately, for most of these men the illness will not be terminal. However, prostate cancer is still deadly enough to be the second leading cause of death for men in the United States. In other words, prostate cancer is often harmless; but when it isn't, it can be deadly. This makes a proper and timely prostate cancer diagnosis essential.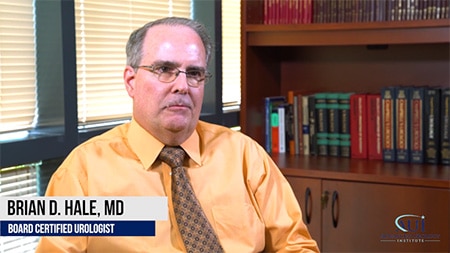 For many men, their prostate cancer will not be aggressive and the symptoms will be manageable. In these cases, urologists rely on active surveillance as the best first treatment option. Rather than risk possibly harmful treatments on a non-aggressive cancer, the urologist will monitor the cancer with routine checkups. Other treatment options will be considered if the cancer becomes more aggressive.
If the prostate cancer is aggressive and immediate treatment is needed, urologists and their patients have a wide range of treatment options to choose from. The treatment option that works best will depend on a number of factors such as the cancer's size and growth, and the patient's age and health. Surgery to reduce the size of the cancer is often preferred for slow growing cancers. For more aggressive cancers, urologists may choose chemotherapy or radiation to kill the cancer cells as quickly as possible.
Although there are many possible causes of prostate cancer, there are certain factors that are known to raise the risk of its occurance. The first risk factor is age. As men get older, their likelihood of developing prostate cancer increases. African-American men have a greater genetic risk for developing an aggressive prostate cancer, while family history and obesity are also factors.
Early detection is the key to a successful treatment. Because prostate cancer is age related, it is recommended to most men that they begin having annual prostate checkups at age 50. African-American men and those with a family history of this cancer should be checked annually starting at age 40. Life saving screenings and successful treatments of prostate cancer happen every day at the Advanced Urology Institute, where trusted urologists like Brian C. Hale, MD guide their patients from diagnosis to recovery.