Prostate cancer is one of the most prevalent types of cancer men face. According to board certified urologist Dr. Arash Rafiei, "One in nine men will have prostate cancer in their lifetime." Although somewhat common, not all cancers in the walnut-shaped prostate gland are the same. Every case of prostate cancer is different and affects men differently. Urologists work with their patients to find the most effective treatment option based on each patient's individual needs.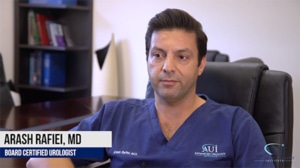 Urologists will consider their patient's health, age, and the type cancer when deciding how to proceed. For some cases, the best treatment is none at all. When a patient has slow growing prostate cancer that is not spreading, a urologist may suggest holding off on treatment while monitoring the growth through routine appointments. The cancer needs to be taken seriously and watched closely, but invasive treatment is not always necessary for the patient's health.
When treatment for the prostate cancer is needed, there are two main options: radiation and surgery. Both options offer the same level of prostate control and urologists will discuss the pros and cons of each with their patients. For surgical options the urologist may suggest a radical prostatectomy or robotic surgery. Both are well-tested invasive options that produce very good patient outcomes.
Radiation therapy is another common cancer treatment option. The radiation is centered on the prostate to kill cancer cells. The radiation will also kill some healthy cells as well, causing side effects. This is a non-invasive option that, like surgery, has its pros and con that a patient and doctor will want to discuss. Follow-up appointments to determine if the cancer responded to the treatment will also be necessary.
In addition to radiation and surgery, there are also some newer options that can be utilized in prostate cancer treatment. For instance, cryotherapy uses very cold temperatures to kill cancerous tissues and cells in the prostate by freezing them. There are also treatments using intense ultrasound waves centered on the prostate to destroy the cancer cells. These procedures are newer and there is less data on when they are the most effective, but they are options to consider.
All cancer is serious and can be a stressful and frightening prospect. Having a dedicated urologist who will listen and suggest the best treatment for each patient is key to success. Whether the best option is observation, radiation, surgery or a newer procedure, the Advance Urology Institute is a team of dedicated urologists with an array of treatment options for their patients.