Urology is a wonderful specialty, being at the same time a surgical and medical practice. It offers an interesting mix of work in both the office and the operating room.
"For many of us, we enjoy spending time in the operating room—after all, we are surgeons by trade," says Dr. Scott B. Sellinger, FACS, a board-certified urologist at Advanced Urology Institute. "But for many of us, we also enjoy interactions with our patients in the office. I love to see my folks, especially the ones I've been seeing for the past 25 years. They come back every year and we can chat about all kinds of things."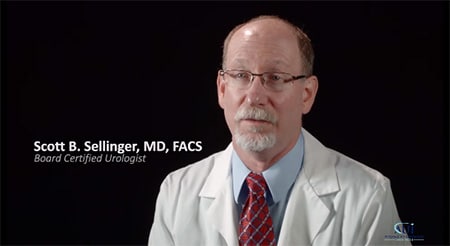 Interesting surgical techniques
While most urology patients are followed long-term with medical interventions, at least half of them are surgical patients. The subspecialty of urology offers great opportunities to practice the surgical side of the profession, which includes the hands-on application of the latest technology, such as robots and lasers. "I enjoy the surgical side of our profession, and urology offers innovative techniques and technology that makes surgical procedures even more interesting," says Dr. Sellinger.
Long-term relationships
The opportunity to build lasting doctor-patient relationships makes urology gratifying.
"As a urologist, you get to care for the entire spectrum of age groups of patients, such as children with congenital problems and patients in their declining years, when a lot of urologic problems tend to set in." says Dr. Sellinger. "I like the fact that I see different patients every day, delve into their emotional problems, and with empathy, provide the support and solutions they need. I also enjoy speaking with the patients I see every year for several years since every time they come in they have something great to share," he adds.
Tackling embarrassing problems
Urology brings relief to patients with personal and sometimes embarrassing medical problems. Through surgery, medications or both, urologists resolve these issues and improve the quality of life of their patients, which is quite appealing.
"As a urologist, not only do I treat life-threatening conditions like cancer, I also improve the quality of life of patients by freeing them from sexual dysfunction or incontinence," says Dr. Sellinger.
Great outcomes
Unlike some other specialties, the treatments offered by urologists often provide quick relief and good outcomes. In fact, most patients treated by urologists do well and get better.
"Nowadays, urology is quite advanced, and we have at our disposal medicines, surgery, and the combination of both treatments that render our patients improved soon after they interact with us," says Dr. Sellinger. "So we feel satisfied and secure in the knowledge that we can solve most, if not all, of the urologic problems," he adds.
Because of consistently great results, urologists are held in high regard by their patients, who are usually grateful for the care. In turn, this gives a kind of satisfaction to urologists.
"I am happy that I chose urology. I'm always filled with joy every time patients come back to thank me for what I've achieved for them," says Dr. Sellinger. "If I were to start all over again, I would still choose to become a urologist."
Personalized, compassionate care
Want to have your urological problem treated by an effective urologist? AUI is a medical group with a long history of providing comprehensive, high-quality care. The urologists at AUI find it a joy to work in an environment that brings out the best of their knowledge and experience for the benefit of their patients.
Whether you have kidney, urinary tract, prostate, pelvic or other urological needs, at AUI you will find a urologist who can deliver the right treatment for you. For more information on the diagnosis and treatment of urological conditions, visit the Advanced Urology Institute website.