If you or a loved one have been diagnosed with bladder cancer, you probably have a lot of questions. The
physicians
at Advanced Urology Institute are experts in treating this type of cancer and will be there to guide you from diagnosis to recovery.
How Is Bladder Cancer Diagnosed?
One of the most common signs of bladder cancer is blood in the urine. You may notice this at home on your own, or a doctor might notice trace amounts during routine urine testing. The doctor will be able to determine if further testing is necessary, the next round of which includes more urinalysis tests, x-rays and a bladder exam.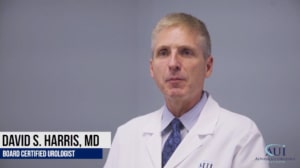 Dr. David Harris with AUI Fort Myers explains, "If we find a tumor, that tumor would be removed from inside the bladder and biopsied." Dr. Harris reassures patients that most tumors found in the bladder are non-invasive and highly treatable.
How Is Bladder Cancer Treated?
Surgical intervention is used in most treatment plans for bladder cancer, either alone or along with another form of treatment. For patients whose tumors have grown into the muscle of their bladder, radical cystectomy (removal of the bladder) may be necessary. This procedure may also be recommended for patients who have a fast-growing tumor in the early stages of bladder cancer to prevent a future recurrence. Radiation and chemotherapy are often part of the treatment, especially for patients who are in the later stages of bladder cancer.
What Is The Prognosis For Patients With Bladder Cancer?
Compared to other cancers, the prognosis for patients with bladder cancer is good. The general 5-year survival rate for bladder cancer patients is 77 percent; the 15-year survival rate is 65 percent. Patients may need ongoing regular treatment to keep the cancer in check. It is important to keep all follow-up appointments to monitor recovery and make sure the cancer has not returned. Patients who have undergone a cystectomy will be fitted with a device to help them urinate; the exact solution varies depending on the type of surgery performed, but patients are commonly fitted with a urostomy bag. Although this does introduce new challenges, patients are able to resume most normal daily routines and enjoy a high quality of life.
Whatever your diagnosis, remember that you are not alone in your journey to recovery. Dr. Harris reassures patients that at AUI, "we're trying to preserve bladders, trying to minimize problems with quality of life." For more information on how our team of urology experts can help, visit the Advanced Urology Institute website.