Prostate cancer is one of the most common types of cancer that affects men. The prostate is a small gland, similar in shape to a walnut, that produces the seminal fluid that helps transport sperm. Although anyone can get prostate cancer, it becomes more common as men age.
It can be difficult to detect prostate cancer as it has little to no symptoms in its early stages. For this reason, it is important for men to have their prostate routinely checked by their doctor. Only after the cancer advances do symptoms occur like trouble urinating, blood in semen, bone pain, erectile dysfunction and discomfort in the pelvic area.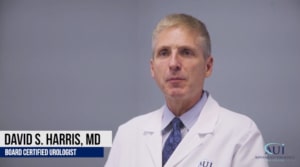 Some prostate cancers grow slowly and, in some cases, need little to no treatment. Other cancers can be aggressive and spread quickly. It is important to see your urologist often to monitor your cancer, as the best treatment for you will depend on the type of prostate cancer you have and how it reacts to treatment.
Treatments for prostate cancer vary depending on multiple factors. Urologists will look at a patient's age, health and the type of prostate cancer when deciding on the best treatment. In a healthy young patient, a urologist may recommend robotic surgery or a radical prostatectomy. These are well-tested and invasive treatments that can produce very good outcomes.
For patients who may be a little older and not in the best of health, radiation therapy may be their best option. Having access to quality radiation therapy can be a game changer in prostate cancer treatment and can create excellent outcomes. It also will be easier on a patient with other health issues.
There are also newer advances that can be used to treat prostate cancer. For example, cryotherapy uses extremely cold temperatures to destroy cancerous tissues in the prostate by freezing them. Another example is HIFU therapy. This stands for stands for High Intensity Focused Ultrasound and uses an intense ultrasound, focused on the prostate, to treat the cancer and is minimally invasive.
Prostate cancer is a serious and often frightening prospect. Many men will suffer from this cancer, but they are not alone. Along with their urologist, men can combat their cancer in a way that produces the best outcomes. Dedicated urologists, like David S. Harris, MD at Advanced Urology Institute, have an arsenal of treatment options and are ready to help men live healthy lives. For more information, visit the Advanced Urology Institute website.